In today's digital age, capturing stunning photographs and videos has become an integral part of our lives. With the advancement of smartphone technology, the camera capabilities of our devices have significantly improved. However, iPhone users often envy the exclusive features of the renowned Google Camera app, which is only available for Pixel phones.
But fret not, for there's a remarkable solution that brings a similar experience to your iPhone – the Cinema P3 Pro Camera app. Let's dive into the world of Cinema P3 Pro Camera and explore its exceptional features that elevate your photography game.
Best GCam alternative for iPhone
The Cinema P3 Pro Camera app unlocks the full potential of your device's cameras, offering an intuitive and easy-to-use interface that makes capturing photos and videos a pleasure. Whether you're a photography enthusiast or a professional, this app provides you with advanced professional tools to capture the highest quality images every time.
Full Control:
With Cinema P3 Pro Camera, you have complete control over your photography experience. The app offers both automatic and manual controls, allowing you to adjust white balance, temperature, tint, exposure, ISO, shutter speed, shutter angle, and focus.
You can choose from center, spot, and manual exposure modes to capture the perfect shot in any lighting condition. Additionally, the app features continuous automatic white balance, manual white balance control with temperature and tint adjustments, and the ability to lock white balance using a grey card for accurate color reproduction.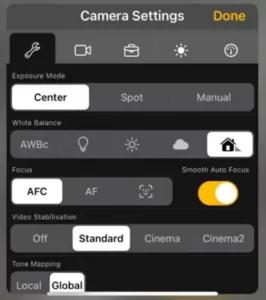 Advanced Tools for Professional Results:
Cinema P3 Pro Camera goes beyond the standard camera app by providing you with a range of advanced tools to enhance your photography. The app supports multiple video recording formats, including 10-bit HLG (Dolby Vision), 10-bit 709, 8-bit P3 HLG, and 8-bit P3.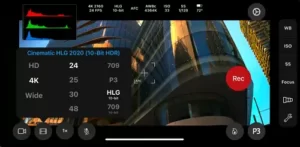 You have full control over video format settings, allowing you to adjust frame rates, resolutions, color spaces, and more. The app even supports high dynamic range (HDR) video capture, enabling you to capture videos with stunning color and detail.
To help you analyze and optimize your images, Cinema P3 Pro Camera offers powerful full-screen and mini scopes, including luma/luminance scope, RGB parade, RGB overlay, histogram, XY colorspace, vectorscope, luma histogram, false color analysis, and zebras. These tools provide real-time image analysis and assist in achieving the desired visual effects.
Creative Video Mode and Photography Features:
The app's creative video mode allows you to optimize and enhance the image in-camera. It offers various log profiles like A-Log, B-Log, C-Log, and D-Log, which provide greater flexibility during post-processing. You can also export 33 and 65 point LUTs to convert log footage to 709, 2020 PQ, and 2020 HLG color spaces. With creative presets and saturation adjustments, you can add your unique touch to videos.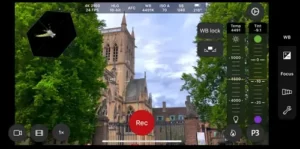 For photography enthusiasts, Cinema P3 Pro Camera offers full manual control for capturing photos. You can adjust white balance, color temperature, exposure, shutter speed, stabilization, flash, focus, HDR, and even enable red-eye reduction.
The app supports multiple image formats, including HEIC and JPG, with the option for live photos. It also allows you to capture RAW and ProRAW images, providing greater flexibility in post-processing and preserving the highest level of detail.
---
Download Cinema P3 Pro Camera for iPhone –
The amazing application is accessible for both iPhone and iPad users. It's important to note that this app can be used for free in its free trial period only. To enjoy the benefits, you will have to pay for its Pro version which sells for $9.99.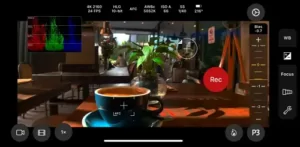 Rest assured, the app is secure to use, as we encountered no problems when testing it on our own device. The user interface is straightforward and user-friendly, making it easy to navigate. You can immediately download the app by following the provided link.
Cinema P3 Pro Camera Download Now
---
GCAM Ports for iPhone
---
Conclusion:
Cinema P3 Pro Camera is a game-changing app for iPhone users who seek a "Google Camera" like experience. With its extensive range of features and professional-grade tools, this app unlocks the full potential of your iPhone's camera. From manual controls and advanced video recording formats to powerful image analysis tools and creative modes, Cinema P3 Pro Camera empowers you to capture breathtaking photos and videos with ease. Take your iPhone photography to new heights with Cinema P3 Pro Camera and experience the joy of capturing professional-grade imagery.
Please note that some features may vary depending on the model of your iPhone. In-app purchases may be required to unlock certain functionalities.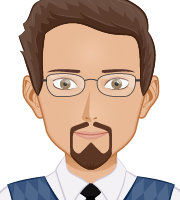 An electrical engineer by education and a blogger by profession. Loves to be surrounded by new technology, software and gadgets.